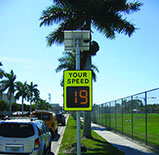 DF15 - DRIVER SPEED FEEDBACK DISPLAY
The MUTCD compliant DF15 unit employs FCC compliant microwave Doppler radar to detect vehicle approach speeds.
Targeted drivers are informed of their speed with a 15inch character high intensity LED display and by using a configuration program the DF15 can escalate the warning provided in direct relation to the speed it detects.
| | |
| --- | --- |
| SPEED DETECTED | DISPLAY WARNING |
| Below or at posted speed limit | Blank |
| > 5mph above posted speed limit | Speed displayed with flashing beacons |
| > 10mph above posted speed limit | Speed alternating with SLOW DOWN |
| > 15mph above posted speed limit | SLOW DOWN with flashing beacons |
Df15 incorporates unique flashing beacon pairs top and bottom of warning message to clearly indicate speed violation while keeping main display solid and easy to read.
The DF15 is the first driver feedback sign to provide potential road condition feedback with its automated Slow Ice warning message. Adjusting driver speed and behaviour to suit road conditions is key to reducing accident rates.
The DF15 driver feedback sign series are to be used in tandem with existing static regulatory signage being deployed downstream as a targeted reminder and are not to be used as a replacement for the static signage.
High intensity LED display with night time auto dimming
Fully configurable escalating display warning modes including SLOW DOWN
Dynamic flashing beacons, alternating top and bottom
SLOW ICE warning message activated by external temperature
One of the lightest units on market, makes install easier
Robust vandal resistant weatherproof case
Time, date stamped speed data recording as standard
Automated scheduling software for school zones
Plug and play install (all cables, brackets provided)
Dual Solar and Hardwire AC power as standard
Optional hybrid 110V AC charger for night time street lighting supply
50% power saving mode to allow 24/7/365 solar operation in most locations and applications
Activation Speed is the value at which if exceeded will trigger the sign to display a steady indication of the vehicle's approach speed.
Notification Speed is a higher value which if exceeded would cause the speed to be shown accompanied by the flashing beacons. If the beacons are disabled using the Options Tab the display will flash the vehicle approach speed at the driver.
Slow Down Speed is the next speed increment and above this value the display will alternate between the approach speed and the SLOW DOWN legend. Also, if the beacons are enabled they will flash.
Max Speed setting will disable the speed feedback to the driver to prevent the sign being used for 'highest score' competitions. However the Slow Down legend and beacons (where enabled) will still flash.
Note: Any Combinations of settings can be employed:
The combination opposite right would cause the sign to feedback a steady display of approach speed from 30 , until 45 when the speed read out would cease. The Slow Down legend and beacons (where enabled) will still flash.
Download a copy of the user manual to see other new features such as SLOW ICE.
Order Now
To find information regarding the sales and distribution of Unipart Dorman Products, please refer to our affiliate located in your state or province.